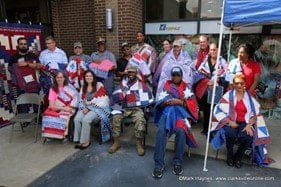 Sew for 22- Quilts of Valor
I would like to invite all of you to our annual Sew for 22 located Beyond Stitches Quilt Shop, 1255A Northfield Drive, Clarksville, TN 37040
We are happy to announce that we will have our annual Sew for 22 event to raise suicide awareness throughout our Veteran ranks.
The event evolved from one of our members having a vision after hearing all the testimonies from our heros after they were awarded a Quilt of Valor and the healing effects the Quilt had on them.
The concept is simple, we sew for 22 hours to raise awareness.  September is Suicide Awarness month and we start our event at 00:22 a.m. on the 22nd and we finish at 10:22 p.m. on the 22nd. At 2:22 p.m. on the 22nd of September we have a special guest speaker and then we award Quilts of Valor.  We then have Mission BBQ that we have partnered with and they are providing a meal for all to enjoy.We have also partnered with the Main Street Tavern, Hopkinsville, who are providing a wonderful homemade cake for our Veterans.
We realize this is a middle of the week event this year so we will be awarding Quilts of Valor throughout the day and night but during our ceremony we will award numerous Quilts of Valor.